If you're a pet owner, you'll be interested to know that we've just introduced a remarkable nutritional supplement called Health Ranger's Seaweed Calcium for Animals and Pets. Although formulated specifically for animals, this is human-grade calcium of the highest quality.
Calcium is a major structural component of bones and teeth and is an essential dietary mineral for your pet. However, most low-end calcium supplements come from limestone, ground up oyster shells, or bone meal – all of which are difficult for dogs, cats and most other animals to fully digest. (And often contaminated with lead, too...)
The calcium content of bone meal, for example, is contained within relatively large particles of bone that appear as jagged tiles when viewed under a microscope. These particles are very slow to digest, and they pass through the body before much of the calcium can be fully absorbed.
Furthermore, the density of bone meal particles varies, so you never know exactly how much bioavailable calcium is in each teaspoon or cup, which makes it very difficult to measure servings accurately.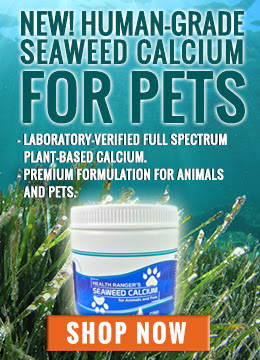 Health Ranger's Seaweed Calcium for Animals and Pets offers a huge advantage over bone meal and other forms of calcium. Being from a vegetable source makes it much easier for dogs, cats and other animals to digest. And being 100% derived from natural seaweed, it contains a full spectrum of bioavailable calcium from plants.
It's on sale now at the Natural News Store. To place an order, you can click on this link now.
Unlike some seaweed brands that are sourced from heavily-polluted China, the naturally calcified seaweed we use is harvested from a pristine ocean source off the coast of Ireland, where seaweed has long been used to treat a variety of maladies.
In these saltwaters, where the North Atlantic Ocean meets the Celtic Sea, there grows a small red seaweed called Lithothamnium, which is composed of a wide variety of essential nutrients. In addition to calcium, it also contains sulphur, potassium, phosphorus, sodium, iron, zinc, selenium and magnesium, all of which help boost calcium absorption into the bones.
As with everything the Natural News Store sells, it's also laboratory verified for safety and purity. And of course it's non-GMO.
With Health Ranger's Seaweed Calcium for Animals and Pets, you can be sure your furry friends are getting all the calcium and essential minerals that they need, in the world's most easy-to-digest and bioavailable form. Supplement your pet's health and happiness by clicking on this link now.
-
Mike Adams, the Health Ranger
* These statements have not been evaluated by the FDA. These products are not intended to diagnose, treat, or cure any disease.